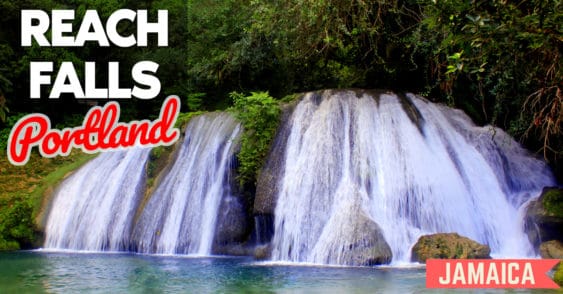 Reach falls Port Land Jamaica is undoubtedly one of the unspoiled beauty of the island. It is an hour drive from Port Antonio's city center and approximately 2 miles east of the fishing village of Manchioneal. The Reach Falls attraction provides its visitors with a unique blend of comfort, relaxation, and adventure. It is nature's true blessing to Port Antonio.
Fun Facts about Reach Fall
Reach Fall is a home to different varieties of birds including the black, and Yellow-billed parrots.
It has a peaceful and exotic setting surrounded by hanging vines, stands of bamboo, crystal clear water and breathtaking falls
Reach Falls has been featured in Hollywood films such as the remake of the Lord of the Files & Tom Cruise Cocktails.
Its main waterfall is a pretty sight to behold and it is a great outdoor Recreation facility. Only reach fall waterfall can give you the feeling of jumping from one portal to another. Behind its waterfall are openings which look like caves.  It has a hidden rabbit hole where divers jump into and never emerge on the surface again.
After the jump, they enter into a hidden cave that has a small hidden waterfall inside of it. At the back of the cave, one can see the main reach waterfalls. So the divers jump into the hole, duck underwater briefly and then re-emerge into an open-air mini George. Reach falls is a refreshing destination and a beautiful alternative to hang out at the beach.  It has other facilities like picnic tables, changing rooms, toilets and lifeguards for general safety.
Reach falls is the perfect vacation spot for couples, families and friends. From tall and river-wide rock face into its naturally made pool, it is a place for you to relax. Plan to visit Reach fall on your visit to Port Antonio it is the perfect place to be at any time of the year.  Contact Jamaica Get Away Travels we are here for you 24 hours of the day to plan your perfect get away.