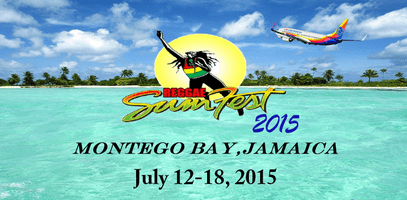 It's that time of year again everyone – time for Reggae Sumfest. The show dubbed the greatest reggae show on earth and for good reasons too. The music festival as it is today, was started in 1993 by a group of business men in Montego Bay after Reggae Sunsplash was discontinued. Ever since its beginning, Reggae Sumfest has aimed to provide patrons with the best music from their favourite reggae and dancehall artistes. This year the festival will start off with a beach party, followed by an All-White party then they're the three nights of musical entertainment, Dancehall Night and International Night 1 and 2.
According to their website, Reggae Sumfest's motto is "Promoting Music, the Universal Force". By looking at this year's line-up they have certainly done so. The range of musical genres in their line-up includes Reggae, RnB, Hip Hop, Rap, and Dancehall among others. Reggae Sumfest has over the years promoted Montego Bay as a top tourist destination in Jamaica and the Caribbean. Music lovers from all across the globe now count down the days leading up to the third week in July. When they can visit an island paradise and enjoy good music from local and international artistes.
In addition to that, they get a chance to enjoy the local cuisine, interact with the local residents and meet patrons from other countries.Customarily, the festival kicks off on Sunday with the Sumfest Beach Party held at the Aquasol Theme Park located on the Walter Fletcher Beach Complex; the All White Party (dress code) held on Tuesday follow by three nights of electrifying live performances beginning with Dancehall Night on Thursday(hardcore reggae), International Night 1 on Friday, and ending with International Night 2 on Saturday at the Catherine Hall Entertainment Complex.
Each year the managers at Summerfest Productions Limited endeavor to top the previous year's show. In previous years top local acts like Lady Saw, Beenie Man, Vybz Kartel, Bounty Killer, and Shaggy have been featured. Featured international acts include Rihanna, Trey Songz, Usher Raymond and Ashanti, Chris Brown, R Kelly, Ne-Yo, Mary J. Blige, Destiny's Child, Alicia Keys, Tito Jackson, Kanye West, Lil Wayne, T-Pain, LL Cool J,Ludacris, Lionel Richie, Missy Elliott, 50 Cent & G-Unit, Jay-Z, Akon, Flo Rida, Ja Rule, Keshia Cole, Jazmine Sullivan, Keri Hilson, Nas, Fantasia Barino, Snoop Dogg, Boyz II Men, K-Ci & JoJo, Dru Hill, Ciara, Wyclef Jean, Joe, Blu Cantrell ,the Temptations among others.
For 2014 the  line-up was great which includes the likes of Wiz Khalifa, Future, Jason Derulo, Freddie McGregor, Beenie Man, Chronixx and Sean Paul. Last  year also feature the special addition of Tessanne Chin. She made our little island very proud when she was declared the winner of NBC's "The Voice".  The line up for 2015 is yet to be advised. It would be a wise decision to make all your transporatation reservations now, so as not miss out on your chance to be there in person.
Tags: Reggae Sumfest 2015